BRoK Catering Company
Moehringgasse 2-4
2320 Schwechat
Lower Austria, Austria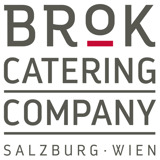 Catering Company Brok is a catering agency with 25 employees. Our focus is on events between 20 and 700 people, with a focus on regional food and cuisine. Since the founding of the company, sustainability has been given great importance in the ecological, social and economic context.
2 seminar rooms with 120m² and 400m² respectively from 10 to 200 persons
We carry the Austrian Ecolabel for our business because we think sustainably and have regional roots.