Trabitsch Catering
Möhringgasse 2-4
2320 Schwechat
Lower Austria, Austria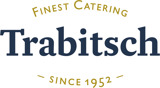 The success story of Trabitsch Catering began in 1952, when Karl and Gertrude Trabitsch opened their delicatessen in Schwechat's Wienerstraße. Today Trabitsch Catering operates as an innovative company with over 60 employees in the field of event catering. The Trabitsch Catering brand has achieved a regionally relevant level that is distinctive and unique.
Our sense of responsibility is reflected especially in the quality of our products, the guarantee of their origin and the promise of a unique culinary experience without regrets.
We are passionately dedicated to this responsibility, which defines our own high standards of service.