Salm-Salm & Partner GmbH
Schloßstraße 3
55595 Wallhausen
Germany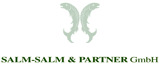 Salm-Salm & Partner is one of the leading specialists in convertible asset management.
With the concept, which has been proven for decades, this partnership-led independent company successfully manages securities assets. The consultation and administration of agricultural and forestry investments round off our service spectrum.

Salm-Salm Sustainability Convertible - LU0264979492
Der Salm-Salm Sustainability Convertible Funds investiert weltweit in Wandelanleihen nachhaltiger Unternehmen. Zu diesem Zweck arbeiten wir mit dem unabhängigen Analysehaus oekom research AG zusammen.
In unserem Anlageprozess stellen wir sicher, dass die Wandelanleiheemittenten, mit Hilfe umfangreicher Ausschlusskriterien unter sozialen und ökologischen Gesichtspunkten überprüft werden. Kombiniert mit unserer Kredit und Nachhaltigkeitsanalyse bieten wir unseren Anlegern eine ausgewählte, qualitativ überzeugende Nachhaltigkeitsanlage in Wandelanleihen an.