Legero Schuhfabrik GmbH
Legero-United-Straße 4
8073 Feldkirchen bei Graz
Styria, Austria


Unsere Füße tragen uns durch unser Leben. Nach den ersten Gehversuchen bewegen wir uns mit ihnen durch die Welt. Die Leidenschaft für Schuhe und der Respekt vor der Natur stehen bei VIOS im Mittelpunkt. Das Ziel ist es, Schuhe aus ressourcen- und umweltschonenden Materialien zu fertigen, um langfristig den Menschen und die Natur ganzheitlich zu schützen.
VIOS arbeitet an einer harmonischen Zukunft, die uns und den nächsten Generationen eine hohe Lebensqualität sichert. Dieser Weg führt über die Leidenschaft für Qualität, die außergewöhnlichen Materialien und den Mut zur Innovation innerhalb einer zuverlässigen Produktion, die höchste ökologische, soziale und ökonomische Standards berücksichtigt.
Der Begriff VIOS ist eine Kombination aus den lateinischen Wörtern "vivo" (leben) und "via" (Weg) sowie dem griechischen Wort für Natur, "bios". Er verweist auf die Philosophie der Marke und auf ihre grundlegenden Werte: Das Denken und Handeln nach einem natürlichen und bewussten Weg auszurichten, in Harmonie mit Mensch und Natur:
Mit natürlichen Materialien.
Mit Leidenschaft erzeugt.
Ohne Sorgen oder Kompromisse.
+VIOS hat zusätzlich seine eigene Anforderungsliste an Chemikalien entwickelt, die von allen Partnerinnen und Partnern eingehalten und erreicht werden muss. Der gegenseitige Wissensaustausch und die Unterstützung sind wichtige Aspekte dieser Zusammenarbeit. Denn nur wo zusammen Wissen generiert wird, kann zusammen für das Wohlergehen der Tiere, der Natur und der Menschen gesorgt werden.
Legero +VIOS Essence Damenschuh
ESSENCE by Legero from the +VIOS collection combines high quality comfort with noble lining materials: this sporty low shoe is made of vegetable-tanned nappa leather. The inner lining is also made exclusively of super soft and sustainable leather, which ensures a special breathability and skin compatibility. The outsole, with the elegant and non-slip wave profile, is extremely flexible and allows maximum walking comfort. The TENCELTM laces are made entirely without chemical additives and are made of natural fibres, which are extracted from wood. The models, all available in comfort width G, also have removable insoles that can be replaced if necessary.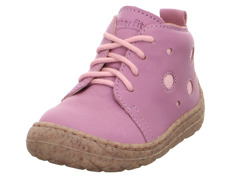 Superfit +VIOS Saturnus Kinderschuh
SATURNUS by superfit from the + VIOS collection is a walker for the smallest boys who attach great importance to comfort. The particularly flexible natural rubber of the sole is perfect for this purpose. The upper is soft, 100% vegetable-tanned smooth leather, which is also lined with sustainable leather inside. + VIOS stands for holistically ecological materials made from environmentally friendly raw materials. Available with interchangeable insole and in medium width (M IV).