fashion and textile industry: sustainability in focus!
COVID 19 has pushed the global fast fashion industry into a deep crisis and triggered a domino effect worldwide: Shops and shopping centres were closed, orders were cancelled, trade employees were dismissed. Since there are hardly any social safety nets for textile workers in Bangladesh, Combodia or India, longer periods of unemployment mean poverty, hunger and disease.
Textile retailers and fashion shops are also under great financial pressure in Austria and Europe. Even before the Corona era, the economic outlook in the clothing industry was already subdued. Now, sharp declines in sales and possible company insolvencies are exacerbating the situation.
In addition to the social and economic effects, the current fast fashion system with high production speeds, extremely short service life, as well as the global networking of the industry, leads to enormous environmental pollution and waste of resources. Particularly affected are water and waste water, chemicals, CO2 emissions or production and textile waste. This is also associated with an outsourcing of environmental damage, ecological and social costs from Europe to countries in Asia.
In recent years, a highly innovative textile industry has been established in Austria. The spectrum ranges from the production of sustainable cellulose fibres to smart technical textiles. The Smart Textiles Austria platform, for example, is successfully working on new textile innovations and products. These strengths and cooperation have enabled the production of medical reusable mouth nose protection within a short period of time, which is urgently needed now!
Launching a future-proof, sustainable textile and clothing industry
Now there`s the momentum to focus on a sustainable strategic reorientation of the textile and clothing industry:
How can sustainable and environmentally friendly design and sustainable business model innovations become the standard in the textile and clothing industry?
What options are there to slow down oversupply and overdemand for "fast fashion"?
What new opportunities are emerging for regional and local textile and apparel companies?
Will there be changes in consumer attitudes and behaviour?
Federal Ministry for Climate Action focuses on sustainable and environmentally friendly textiles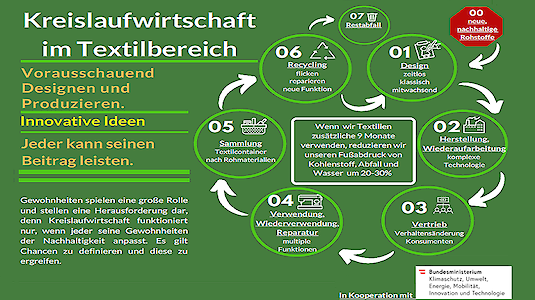 The Federal Ministry for Climate Protection, Environment, Energy, Mobility, Innovation and Technology (BMK) is committed to a sustainable, climate-neutral and recyclable textile and clothing industry. The BMK thus supports a range of sustainable clothing and textile initiatives, activities and programmes from the local level to the international arena, visibly illustrated by three concrete examples:
The BMK is participating in this year's Sustainability Challenge with the theme "Fast Fashion2Circular Fashion". Here, students from different fields of study are looking for new solutions and approaches to sustainable fashion. Further information is available at:
The BMK supports the development of a comprehensive EU strategy for textiles within the framework of the new action plan for the circular economy, with the aim of expanding the EU market for sustainable and recyclable textiles and promoting the development of new sustainable business models.
Further information is available at: https://ec.europa.eu/environment/circular-economy/