Dockner Gesellschaft m.b.H.
Untere Ortsstraße 17
3125 Kuffern
Lower Austria, Austria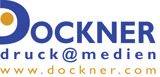 Our family business was founded in 1988 by the current managing directors. The basic idea was and still is to produce printed products (also in short runs) in highest quality. Noble print products in combination with personality and intensive customer service are considered to be the basic rule of our company.
There are no limits to the creativity of our employees. In addition to logo design, graphic design, CD and CI, "Medienwerkstatt Dockner" also offers homepages and presentations at the highest level. Media-technology and media-design are naturally also part of Dockner's full service. As a future-oriented company, it is always a challenge for us to meet even the most difficult requirements and wishes with the latest technology and our know-how.
Broschüren
Beschreibung Broschüren folgt
Periodisch erscheinende Druckerzeugnisse