Autohaus Patterer GmbH
Villacher Straße 14
9620 Hermagor
Carinthia, Austria

Autohaus Patterer was founded in 1962 with a location in Hermagor. In 1986, the branch in Kötschach-Mauthen was added. Since 1996, Franz-Gerhard Patterer has been the managing director of the car dealership and, among other things, implemented the Leader Region project "Raising awareness for e-mobility and e-car sharing" in 2017 in cooperation with the municipal association. The aim was to establish a new mobility offer in the form of car sharing in rural areas and to create innovative usage options.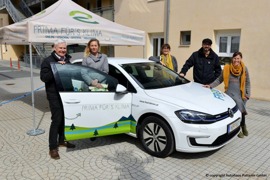 E-Carsharing FReD
FReD "Prima fürs Klima" is the innovative e-car sharing concept of the Nassfeld-Pressegger See, Lesachtal and Weißensee region, which was launched in 2016 and is backed by the municipalities, project partners from the business community and network partners.
Started as a LEADER project "Marketing and awareness raising e-Carsharing Region Hermagor" and submitted via the Association of Municipalities Carnic Region and the Climate and Energy Model Region (KEM) Carnic Energy, it relies on shared e-mobility. The e-cars come from resident companies. The participating municipalities and companies provide the parking spaces including charging stations and also commit to a minimum usage. However, not only these "regular customers" can access the FReD fleet. It is also available to locals and guests at any time.
Since 2018, there has been a successful cooperation with the local driving school "Fahrschule Brunner". Supported by KEM, student drivers complete a precision drive with the e-car and learn how to drive, charge and book via the APP. Approximately 300 students have participated during this time and in 2022 this initiative was awarded the e5 crown by the state of Carinthia.
New location partners are constantly being sought and pilot projects launched (e.g. campsites, Alpencamping Kötschach-Mauthen, Europarks Hermagor, Caravanplatz Gailberg, Wanderniki Obergail) in order to reach the target group of vacation guests even better. Currently, sustainable excursion destinations are being defined together with the tourism company and the project "Natürlich Wir - Nachhaltigste Region" (Naturally We - Most Sustainable Region) and are to be made bookable in the future as pleasure tours combined with the e-cars of the Fred Fleet (Project: Pleasure Tours). An INTERREG project has been submitted and is currently being implemented.
You can book the e-vehicles directly via the FReD app (www.fred-fahren.at). Due to the very accessible locations, they can be easily combined with public transport such as bus and train. This gives you an environmentally friendly and affordable alternative to your own car.
The FReD fleet has been able to expand every year due to these initiatives and currently has 6 cars and many new locations developed. E-car sharing is being publicized in the region and is becoming more and more accepted within the population.