Decopan Handels GmbH Clean OK
Heiligenstädter Lände 11a
1190 Wien
Vienna, Austria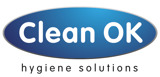 Clean OK stands for pure"; but also for quality, efficiency and competence.
With our know-how from many years of experience in the field of industrial hygiene and our 15-year success story in the field of hygiene and service, we have together with our customers developed conclusive and responsible concepts that are precisely tailored to their needs.
Pure - Clean, should not only be the surfaces, but also our environment! Following the ÖKO idea you will receive the 10kg canister in a package with a dosing pump or a drain cock and a spray bottle when you order for the first time. This greatly reduces the consumption of small containers and makes an important contribution to waste avoidance.
The ÖKO-Clean products have been awarded the Austrian Environmental Label and the EU Ecolabel and are listed in the environmental consultancy. These products convince with their environmentally compatible formulation and proven cleaning performance.
Öko-Clean Allzweckreiniger