SALESIANER MIETTEX GmbH, Standort Leogang (Salzburg)
Hirnreit 67
5771 Leogang
Salzburg, Austria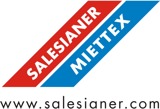 More than 100 years of textile management for the best.
SALESIANER MIETTEX stands for progress in textile management. Since 1916.
Founded in 1916 as a family enterprise and still under family ownership – a strong foundation for reliable textile rental solutions. The core business of our company is the comprehensive provision of rented textiles for hotels and restaurants, workwear for industry, trade and commerce, and textile supply for the health services sector. On top of this, we offer cleanroom textiles, washroom hygiene, and dust control mats and graphic mats. A clear commitment to quality, hygiene and sustainability, as well as investments in the latest technology and qualified staff have placed us in a dominant position on the market. SALESIANER MIETTEX supports you in coping with the daily demands of your business areas.

These include acquisition, provisioning, storage, maintenance and the faultless hygienic washing of textiles as well as punctual delivery. In other words, the complete logistics. With special focus on hygiene and sustainability.