green care PROFESSIONAL Produkte
Rheinallee 96
D-55120 Mainz
Germany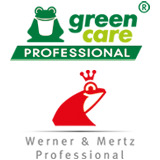 The Professional Division of Werner & Mertz was established in 1971 and is the pioneer in integrally sustainable high performing, cleaning and sanitizing products for professional sectors like Facility Care, Foodservice, Health Care, Lodging and Food Processing .
Sustainability is not seen as a temporary trend but rather is tradition that the company lives every day. Right from the very beginning, the protection of natural resources, sustainability and preservation of biodiversity have always been our focus.
LAVAMANI hair&body
Shampoo und Duschgel in einem. Hautverträglichkeit dermatologisch getestet, pH-hautneutrale Rezeptur und angenehmer Duft. Membran-Verschluss für optimale Dosierung aus dem dazugehörigen Spender. Entwickelt mit Wirkstoffen aus regenerativen Quellen trägt dieses Produkt zum verantwortungsvollen Handeln gegenüber künftigen Generationen bei.