E. MAYR Reinigungstechnik Ges.m.b.H.
Ortsstraße 285
2331 Vösendorf
Lower Austria, Austria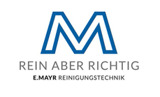 A clean environment is deeply rooted in our understanding and approach. That's why E.MAYR has developed an ecological cleaning agent line. LiGreen is environmentally friendly and was specially developed for daily maintenance cleaning. Suitable for all objects and facilities. 95% biodegradable.
LiGreen GT-S Glanztrockner sauer