hollu Systemhygiene GmbH
Salzstraße 6
6170 Zirl
Tyrol, Austria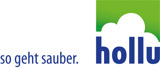 Since 1905, we have been developing innovative, coordinated cleaning systems for all areas of cleaning and hygiene. For every challenge, we find the optimal solution as a professional hygiene partner & full service provider. We want to grow with our customers and go innovative ways together.

All of our hollueco products have been awarded the Austrian Ecolabel and the EU Ecolabel.
hollueco Grundreiniger
Wachs- und Polymerentferner, ideal für Linolböden. Zur Reinigung aller wasserbeständigen Bodenbeläge wie PVC, Gummi-, Kunststoff-, Gumminoppenböden, Linoleum, Natur und Kunststein. Der ideale Grundreiniger für Linoleum.
hollueco Beschichtung
Strapazierfähige Polymerdispersion. High-speed-geeignet. Zur Beschichtung aller wasserbeständigen Hartbeläge wie PVC, Linoleum, Gummi und anderen Kunststoffböden, Natur und Kunststein.