green care PROFESSIONAL Produkte
Rheinallee 96
D-55120 Mainz
Germany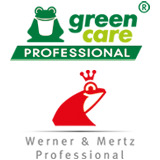 The Professional Division of Werner & Mertz was established in 1971 and is the pioneer in integrally sustainable high performing, cleaning and sanitizing products for professional sectors like Facility Care, Foodservice, Health Care, Lodging and Food Processing .
Sustainability is not seen as a temporary trend but rather is tradition that the company lives every day. Right from the very beginning, the protection of natural resources, sustainability and preservation of biodiversity have always been our focus.
LONGLIFE complete
Hochleistungspflegedispersion mit hervorragenden Gebrauchseigenschaften: Extreme Widerstandskraft und Langlebigkeit durch eine speziell entwickelte Kombination von Hochleistungspolymeren. Herausragende Alkohol- und Desinfektionsmittelbeständigkeit. Besonders umweltgerechte Rezeptur mit Nordic Ecobel. Herausragende Anwenderfreundlichkeit: Einfaches Handling und fehlerverzeihende Anwendung.
LINAX stripper
Universalgrundreiniger mit außergewöhnlichen Umwelteigenschaften. Anwendungssicher, auch für alkaliempfindliche Bodenbeläge geeignet. Geringere Einflüsse auf die Raumluftqualität. Ideal im System mit LONGLIFE polish; entfernt mühelos auch mehrschichtige Polymerfilme von LONGLIFE polish. LINAX stripper verzichtet auf (öko-)toxikologisch belastende Inhaltsstoffe (Phosphate, EDTA, NTA und Parfum, Farbstoffe)
LINAX complete
Entfernt jede Art von Polymerdispersion. Ideal im System mit LONGLIFE complete. Wirkt extrem kraftvoll auch bei hartnäckigen Pflegefilmen oder stark überpflegten Böden. Kann auch auf alkaliempfindlichen Böden eingesetzt werden. Spart Zeit und Ressourcen, da kein Nachspülen oder Neutralisieren erforderlich.
LONGLIFE matt
Matte Hochleistungs-Pflegedispersion mit speziell entwickelter Technologie für extreme Widerstandskraft und Langlebigkeit. Ideale Einpflege für Bodenbeläge in Gesundheitseinrichtungen durch hervorragende Alkohol- und Flächendesinfektionsmittelbeständigkeit in Verbindung mit der matten Optik.
LONGLIFE polish
Universell einsetzbare Pflegedispersion ohne öko-toxikologisch belastende Inhaltsstoffe wie Metall-Salz (Zink), TBEP, Fluor- und Silikontensid sowie Parfüm. Nordic-Swan-Zertifizierung. Die gute Haftung, die ausgezeichnete Polierfähigkeit und die Möglichkeit zur Restaurierung des Pflegefilms machen LONGLIFE polish zu einer sicheren und langlebigen Pflegedispersion. Geprüfte Trittsicherheit nach DIN 18032-2.Funktioniert bestens im System mit LINA X stripper.