Keram Leszkovich GmbH
Bahnstrasse 33
7210 Mattersburg
Burgenland, Austria

Keram Leszkovich is a family-run craft and trading company for stove and fireplace construction. The small but fine team convinces with quality and reliability. Together with customers, carefully selected partners and suppliers, individual tiled stoves, chimney stoves, pellet stoves and kitchen stoves are built, serviced or renovated to the current state of the art and design. Innovative combustion technology and heating with the renewable raw material wood lead to a cozy warmth without electricity and protect the environment and the climate.
We look forward to welcoming you to our website www.keram.at, to facebook @keram.leszkovich.ofen or to our showroom in Mattersburg!
tiled stove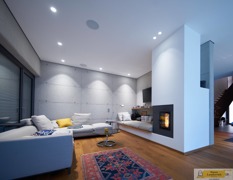 Keram Leszkovich Umweltofen - Kachelofen mit Brennraum UmweltPlus 1,6 – 10,8 kW
The classic tiled stove (basic stove) is a heat storage stove that is handcrafted with fireclay. The radiant heat is achieved through environmentally friendly and very efficient heating with the best of all renewable raw materials, wood from Austria. The energy produced in the combustion chamber is stored in the mass of the stove, then released over a 12-hour period or longer. The radiant heat is at such a wavelength as to be the most pleasant to the human body.