Keimfarben Ges.m.b.H.
Gewerbestraße 7a
5310 Mondsee
Salzburg, Austria

Since 1878, KEIMFARBEN has been producing top-level, mineral coating systems that stand for sustainability, longevity and efficiency.
The mineral product range comprises well-engineered facade, interior and concrete paint systems as well as renders, natural stone repair systems and various supplementary products.
KEIM has an excellent reputation when it comes to renovation, refurbishment or new construction.
Key features of KEIM exterior paints:
- extreme durability,
- ideal moisture balance,
- highest water vapour permeability
- remains clean for a long time,
- easy to refinish etc.
Key features of KEIM interior paints
- mould-inhibiting
- highly breathable,
- suitable for persons suffering from allergies
- emission-free,
- highly resistant to mechanical stress,
- non-combustible.
For more information please visit www.keim.com or contact our trading partners or employees.
Mineralfarbe konservierungsmittelfrei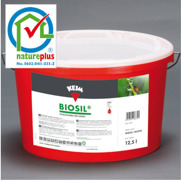 KEIM Biosil
Die anwendungsfertige Innensilikatfarbe KEIM BIOSIL ist für alle üblichen Innenwand- und Deckenflächen, z. B. in Büros, Wohn-, Schlafräumen, Küchen, Bädern geeignet, insb. auch für sensible Bereiche wie Krankenhäuser, Kindergärten, Schulen etc. Es enthält keine Lösemittel oder Weichmacher, auch keine Konservierungsstoffe. KEIM BIOSIL ist auch für Allergiker bestens geeignet und gesundheitlich unbedenklich. Durch die extreme Diffusionsoffenheit kann die Wand über die Farbschicht Feuchtigkeit aufnehmen, speichern und sukzessive wieder abgeben. Die Oberflächen bleiben daher auch bei hoher Feuchtigkeitsbelastung trocken, eine wesentliche Voraussetzung für ein gesundes Raumklima und besonders wichtig zur Vermeidung von Schimmel. Neben einer trockenen Oberfläche wirkt die hohe Alkalität schimmelhemmend; und schließlich bietet die anorganische Zusammensetzung keinen Nährboden für Schimmelwachstum. Schimmelprävention ganz ohne Zusatz von giftigen Bioziden! KEIM BIOSIL ist nicht brennbar, es entstehen keine toxischen Brandgase. KEIM BIOSIL weist auch ein hervorragendes Ökoprofil auf und ist sowohl natureplus®-zertifiziert als auch mit dem österreichischen Umweltzeichen ausgezeichnet. Die mineralisch matte Optik, das hohe Deckvermögen (Deckvermögen Klasse 1), der niedrige Verbrauch, die hohe Scheuerbeständigkeit (Nassabriebbeständigkeit Klasse 2) und die Vielfalt natürlicher Farbtöne runden das Profil von KEIM BIOSIL ab.