ADLER-Werk Lackfabrik Johann Berghofer GmbH & Co KG
Bergwerkstraße 22
6130 Schwaz
Tyrol, Austria
With around 630 employees, ADLER is Austria's leading manufacturer of varnishes, paints and wood preservatives. Since its founding in 1934, the family-owned company, now managed by Andrea Berghofer in the third generation, has remained loyal to its Tyrolean location. Around 21,000 tons of paints and varnishes are produced there every year in Europe's most modern water-based paint factory.
The internationally active family business supplies high-tech products to carpenters, wood processors, furniture, parquet and window manufacturers, painters and the paint trade in over 25 countries worldwide - almost two-thirds of production is exported. In addition to its Austrian headquarters, ADLER has subsidiaries in seven other European countries. ADLER is the market leader in Austria in the field of furniture paints and window coating systems as well as in the do-it-yourself segment. Do-it-yourself products are sold in ADLER Farbenmeister's approximately 120 specialist paint stores as well as in selected DIY stores.
Quality awareness, service and sustainability are the building blocks of ADLER's success. More than two-thirds of the approximately 10,000 products are manufactured on a water-thinnable basis. The fact that ADLER does not just pay lip service to environmental protection is evidenced by new ecological and sustainable products, numerous awards and certifications, as part of which the paint factory regularly undergoes strict controls. Innovation and research play an important role - which is why around 110 of ADLER's 630 employees work in this area.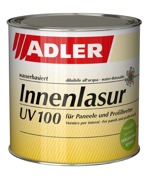 Innenlasur UV 100 (Holzlasur)
Wasserbasierte, dünnschichtige, atmungsaktive, seidenglänzende, besonders leicht verarbeitbare Lacklasur für den Innenbereich. Sorgt durch die transparente und matte Einstellung für ein sehr natürliches Erscheinungsbild bei Nadelhölzern. Das Produkt enthält wirksame Lichtschutzmittel zur Absorption der UV-Strahlung und Stabilisierung des Holzbestandteiles Lignin.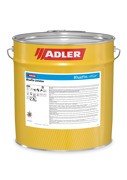 Bluefin Unistar
Water-based transparent multi-coat varnish with very good transparency and wood accentuation. The product has excellent filling power, fast drying and excellent blocking resistance, very good chemical and mechanical resistance. Good cream and grease resistant (CFB). Very good firmness on vertical surfaces and very good light fastness. Suitable as multi-coat varnish on e.g. oak for neutral wood accentuation. The product contains a special UV filter to protect against premature yellowing and fading. Suitable for the "coat on coat" procedure. Very low VOC content.