Kemika S.p.A.
LUCE ECO
Via G. Di Vittorio, 55
15076 Ovada
Italy


Kemika develops, produces and distributes chemical specialities for professional cleaning. The company sells to the market of contract cleaners and institutional. Founded in 1976, Kemika is one of the leading companies on the Italian market and active in other European countries as well as in some Mediterranean areas and eastern European countries. Kemika is ISO 9001:2015 certified and got the formal permission by the Italian health ministry to produce disinfectants (PMC), cosmetic products, eco-friendly products and floor polishes.
Kemika has chosen to obtain the Austrian ecolabel because its criteria respect the environment as well as the health and safety of consumers. The ecological mission of the company is not only focused on the products launched on the market, but also on the production facilities. Kemika obtains electricity from solar panels and lighting is guaranteed by led lamps. The energy used for production and heating is generated by renewable sources.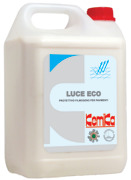 LUCE ECO
The formulation is based on acrylic polymers and waxes which are resistant to traffic marks and washing with detergents and disinfectants.The product, easy and quick to apply, is particularly suitable for the protection of resilient floors such as PVC, rubber and linoleum in high traffic areas like in hospitals, schools, shopping centres.The film covers the imperfections of the floor by uniforming the surface and improving its visual appearance.