Dietzel GmbH
1.Haidequerstrasse 3-5
1110 Wien
Vienna, Austria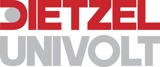 Dietzel Univolt has been a leading player in electrical installation technology for more than 80 years. Today, the family business based in Vienna is a successful international manufacturer of electrical installation material with production sites in Vienna and Slovakia. Every year Dietzel produce 120 million metres of installation material and 60 million pieces of accessories for customers in more than 80 countries.
The focus is on the development and production of conduits and accessories that meet the highest quality standards. Dietzel was involved in the development of environmentally friendly, halogen-free conduits at a very early stage and with its HFT products (HFT = halogen-free, flame-retardant, temperature-resistant) is a leading supplier of halogen-free installation systems for electrical installations.
The Turbo® family: Whether flexible or rigid conduit: The Turbo® technology ensures reduced friction when pulling in cables. This means less effort and saves time.
Xtreme - HFXP X and HFXP X Pro: Even faster than Turbo®-fast. The additional glide cor of the Xtreme conduits make pulling in cables even easier and faster. Xtremely fast.
More information at www.dietzel.at
Biegsame Elektroinstallationsrohre aus Polypropylen halogenfrei, flammwidrig und raucharm (LSF0H)
Starre Elektroinstallationsrohre aus Polypropylen halogenfrei, flammwidrig und raucharm (LSF0H)