pando | green event
Jutta Markus
Gumpendorferstraße 16/1/8
1060 Wien
Vienna, Austria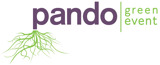 pando | the csr lab advises organizations on sustainable development and corporate social responsibility.
Events are an important tool for many companies to get in direct contact with their stakeholders. Companies that take responsibility for the consequences of their actions on the environment and society, they should also pay attention to the careful use of resources when carrying out events. The Ecolabel Guideline for Green Events and Green Meetings contains a clear set of rules that has to fulfill the ecological and social criteria of a sustainably organized event.
As pando itself is very concerned about the issue of sustainable development, we felt it was necessary to become a licensee of the eco-label for Green Events and Green Meetings. So we can make another contribution to use resources sensibly and raise awareness of our customers and the visitors of meetings and events.
pando will gladly assist you in the conception and organization of your events.
pando expertise:
• Employee Engagement
• stakeholder communication
• ISO 26000
• ONR 192500
• Sustainable event management
• Certification of events with the Austrian Ecolabel