Mittelschule Kopfing
Hauptstraße 18
4794 Kopfing
Upper Austria, Austria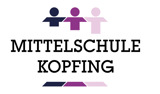 The Mittelschule Kopfing is a middle school with four classes in the district of Schärding, Upper Austria. For more than ten years, we have been a certificated "Gesunde Schule" (Healthy School). This means that various aspects of exercise, nutrition and environment are firmly established in our daily school life.
Our teaching staff values a "human" atmosphere within the bounds of valid school regulations.
The certificate of a "digiTNMS" (Middle School with a focus on digital media, technical and natural sciences) shows that our teaching focus on digital education exceeds a given standard. The proper handling of digital media and the dangers of their use are discussed with students in every grade and, additionally, when occasions arise to be used for discussion in class.
Fostering the autonomy and self-reliance of our students is of the utmost importance to us.
Our educational projects:
waste avoidance and separation
careful handling with power – energy representatives
Future week: protection of the environment and nature, careful handling of the available resources
conscious nutrition: fruit basket, certificate "Gesunde Küche" (Healthy Kitchen), snack boxes and beeswax wraps instead of aluminium foil, "Gesunde Jause" (Healthy Snack) in cooperation with the parents