FUN Bildungszentrum
Donaufelder Straße 252/2
1220 Wien
Vienna, Austria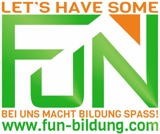 We care – both for our surroundings and our environmental impact.
As an independently run family company, we stand for quality-oriented and individually centered trainings in the educational market.
Social openness such as integration, inclusion and accessibility, as well as real appreciation of our customers, employees and partners are inextricably linked to FUN Bildungszentrum.
Respect, tolerance, equality and sustainability are the guiding principles that determine our actions every day. Ecological management and environmental awareness are cornerstones in our office and classrooms, as well as in our curriculum.
Our contributions
Taking responsibility – small aspects with a big impact:
Completely paperless office and classroom
Learning platforms on topics such as raising awareness and mindful consumption
Conscious, regional procurement in compliance with ecological criteria such as fair trade, organic, eco-certification
Waste avoidance
Offices and classrooms furnished with sustainable materials
Location is easily accessible by public transport and by bicycle
Course program based on the principles of education for sustainable development
We proudly display our environmental and climate awareness. We are committed to ensuring that in addition to increasing personal, social and hard skills, we also instil a deeper awareness for our planet.
Our quality and social responsibility are certified through the Austrian Ecolabel UZ 302.