FNL Kräuterakademie nach Ignaz Schlifni
Schlossweg 2
Hunnenbrunn
9300 St. Veit an der Glan
Carinthia, Austria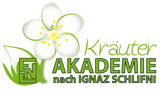 The FNL Herbal Academy according to Ignaz Schlifni was founded in 2010 as a subsidiary of the "Friends of the Natural Way of Life/ a Natural Life Style" with the main goal of passing on the knowledge of folk medicine and herbal lore by Ignaz Schlifni and other herbal experts. For more than 10 years, the FNL Herbal Academy has been training future "FNL herbalists" in its "folk medicine herbal courses" adhering to Ignaz Schlifni's teachings throughout Austria, Germany and Italy.
Starting in 2022, the FNL Herbal Academy will expand its range of services and, in addition to the basic training of becoming an FNL herbalist, will also offer advanced courses, seminars and workshops for herbalists and students with little or no herbal knowledge to improve or start their herbal education.
Furthermore, we will introduce our new nature competence center, located in Hunnenbrunn Castle in Carinthia. The idea behind this center is based on the following core pillars:
- Sustainability & nature conservancy
- Herbal wisdom & all-natural products
- Reconnection with nature
- Cross-generational education & awareness work with lasting effects
Our mission is to enable people to get to know the science of herbalism by offering them accessible and affordable herbal education. In our courses, we aim to support traditional European folk medicine with scientific findings and discuss topics that create awareness of the necessity of living a sustainable life. We point out different ways in which our own everyday life can be made more sustainable and how we can maintain and support our health with the gifts of Mother Earth.
Our goal is to open people's mind to find their way back to nature, to provide for their own health preservation in a natural way and a self-determined existence.
Our environmental services
We have already achieved many of the goals that are vital for the eco-label by carefully balancing in our herbal education a wide variety of topics ranging from traditional European folk medicine, Western herbalism, nature conservation, biodiversity, sustainability and natural lifestyles.
Our herbal courses aim to disclose new perspectives and opportunities to our students so they can reconnect with nature, maintain their physical and mental health and to live and act following the ecological cycle of nature. The intense scrutiny of the plant-based dimension of one's own living environment leads to an awareness of the fragile interaction of animate and inanimate nature.
Furthermore, the demonstration of sustainable ways provides feasible alternatives for living a natural and sustainable life avoiding any consumption excess. By using the basic knowledge of traditional herbalism, we illustrate how the gifts of nature can be deployed to maintain and support one's own health.
We carry the eco-label because ...
... the FNL has been committed to the promotion of nature conservation, the preservation of biodiversity as well as to the raising of people's awareness and to imparting our herbal knowledge for almost 40 years and, by being certified with the Austrian eco-label, has succeeded in displaying our principles to the public!