der daberer - das biohotel
St. Daniel 32
9635 St. Daniel
Carinthia, Austria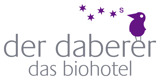 The Daberer in St. Daniel in the Valley of the Gail in Carinthia: Organic – always a matter of course for us
Let us tell you something! Something about the Daberer world. A world full of quality, joie de vivre and special holiday experiences. Arrive, live, enjoy, relax, exercise and recognise.
Because you are worth it!
As many favourite places as you like! A living room for our guests, with the feeling of being at home. A natural resort, where you can't ask for more. Fish ponds, wood, fields, benches and loungers in the garden and the soundscape of the little brook around the corner…. this is the natural luxury.
Our culinary philosophy is no secret. Regional, seasonal and organic! The best ingredients, gentle cooking and prepared with love! Organic is creative, diverse and it tastes good!
Observant, diligent, genuine! In our natural Spa there is the best and easiest well-being recipe. Natural products and the Daberer tactile quality. Tranquility and regeneration are working its effect… You feel loose and relaxed.
A Daberer world rich of experiences and a lived-out commitment!
You will find further information about our hotel and our offerings at www.biohotel-daberer.at/