STYRIA Print Group - Graz & St. Veit
Styriastraße 20
8042 Graz
Styria, Austria

Responsible handling of the environment and resources is particularly high up on the list of priorities of the Styria Print Group: the paper we use is predominantly regional waste paper; all used materials and waste are recycled and the high-tech systems are operated entirely using certified sources of energy.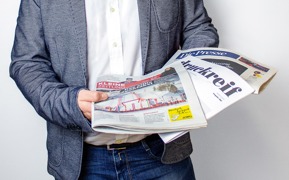 Ecolabel Drucksorten
Newspapers, image journals and Flyers
Our offer ranges from daily and weekly newspapers to image and customer newspapers to leaflets specific to target groups and regions. The formats can be selected from tabloid or broadsheet untrimmed and trimmed. We offer various types and qualities of paper. We can thus reflect the respective character of your printed product in the best possible way. Everything is possible, from well-known newsprint to bright white natural papers. We generally work with runs of 10,000 or more.