Scheucher Holzindustrie Gmbh
Zehensdorf 100
8092 Mettersdorf
Styria, Austria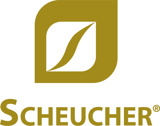 For many years now, Scheucher, a family-run company with a long tradition and its headquarters in heavily-forested Styria in Austria, has been producing elegant parquet flooring for people throughout the world. Scheucher specializes in the production of fine parquet flooring creations, and it's products are in worldwide demand: High-quality wooden floors personify the cultivated flair of international hotel projects. They beautify elegant suites and lofts, restaurants and bars. And they give business and congress architecture an exquisite atmosphere.The brand Scheucher is a promise of quality and, despite the increasing internationalization in the customer structure, characterized by an unbroken loyalty to its prodction site in Austria: From our product development to production and sales, all steps of the value chain are implemented in our hometown Mettersdorf, in the forested Styria. 250 employees, mainly from the region, are the specialists for precision and quality behind a sophisticated machine park in one of the most modern prefabricated parquet manufactories in Europe and constantly ensure the highest quality products.
Scheucher Mehrschichtparkett WOODflor, BILAflor und MULTIflor
WOODflor NOVOLOC® 5G, BILAflor® and MULTIflor.11 NOVOLOC® 5G from Scheucher are engineerd multilayer pre-finished parquet floors with NOVOLOC® 5G - click system or tongue and groove connection and have already proven themselves for decades.
Your parquet flooring with the usual attractive range, manufactured exclusively in Austria on state-of-the-art production lines with a 3.6mm thick wear layer and a softwood construction for a particularly low CO2 footprint !

The special construction of the collection ensures enormous stability, load-bearing capacity and a high resistance to warping and has been developed in combination with the currently best surface treatments of purely oxidative drying oils with wax finish or UV-cured lacquers in inert curing technology for a particularly long service life. This is what we mean by honest sustainability!