ELITE S.A.
En Roveray 198
1170 Aubonne
Switzerland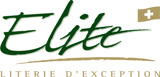 About Elite and our ecological friendly efforts
At Elite, we do not see environmental responsibility as a constraint. Rather, our environmental policy is an integral part of our commitment to sustainable development. The EU-Ecolabel certification represents our corporate philosophy and our commitment to protecting the planet. By promoting natural materials as well as a type of non-industrialized production, Elite has always been concerned with protecting the environment and our customers' health. We avoid all types of toxic products, because today we know that all the chemicals we inhale during sleep can remain in our blood.
Consequently, it was quite natural for Elite to become involved in this endeavor and offer its customers the security of the European Ecolabel certification.
Elite SA was founded in 1895 by Jules-Henri Caillet, master saddler and upholsterer. In 2006 the founder's granddaughter passes the rains to François Pugliese. The current director and owner banks on Swiss made quality and innovation to develop the enterprise.