RINGANA GmbH
RINGANA Campus A 1
8295 St. Johann i. d. H.
Styria, Austria

Pure ingredients. Real efficacy.
For over 25 years, RINGANA has been producing highly effective fresh skin care and food supplements using natural ingredients. Sustainable, vegan, free of harmful substances, and with no animal testing – now considered modern, all of these qualities have been enshrined in RINGANAs corporate philosophy from the very start.
RINGANA sets great store by using highly potent, antioxidant substances from nature, and avoiding the use of synthetic preservatives and any synthetic additives. So one could say that RINGANA is in fact even enhancing natural skin care. All RINGANA products are devised by a research team, the complex formulations are manufactured at the headquarters in St. Johann in der Haide and the finished products are shipped directly from there to the customers.
Our sustainability programme – RINGANA RE*THINK – covers all areas relating to climate protection. We give it life by constantly questioning existing solutions – with the aim of going in even more eco-friendly directions. Our energy requirement is covered entirely by green electricity, more than half of which is generated by our own photovoltaic plant. Heat pumps obtain renewable energy from the ground. Electric cars and e-bikes are available for work trips. And at our employee canteen, we serve only vegan and vegetarian food.
There is no alternative to nature.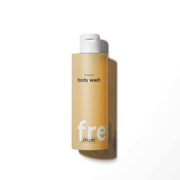 RINGANA FRESH body wash
FRESH body wash is a nourishing shower gel for personal use. The formulation is very suitable for sensitive skin, formulated without potential allergenic fragrances and provides ingredients such as aloe vera fresh plant juice, fresh orange water, hyaluronic acid, a combination of moss, fern and lichen extracts for extra moisture. A blend of mildly cleansing plant sugar surfactants frees the skin from impurities and sebum without having a strong impact on the skin barrier. Extracts of rosemary, ginger and sage have an antioxidant and invigorating effect. Also used are pre- and postbiotic ingredients that support the microbial balance of the skin.
Application: put a small amount in moistened hands, rub and wash with it the skin areas to be cleaned. Rinse with sufficient water.
(For the sake of the environment, use sparingly and use only the amount actually needed).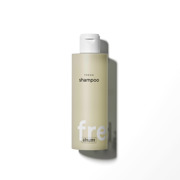 RINGANA FRESH shampoo
FRESH shampoo gently cleanses the hair with COSMOS natural cosmetics compliant surfactants and pre- and postbiotic ingredients. The light gel-like formulation also allows for material-saving packaging.
Application: Massage FRESH shampoo into wet hair in a small amount (depending on hair length). Rinse off.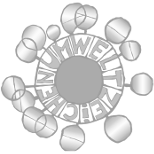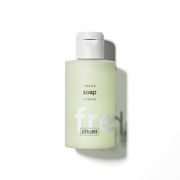 RINGANA FRESH soap liquid
FRESH soap liquid is a new liquid soap specially developed for dry and sensitive hands. Gently cleanses and at the same time moisturizes and refattens the skin. Additionally it contains pre- and postbiotic active ingredients to preserve the natural balance of the skin flora.
Application: Lather in the hands with water. Then rinse thoroughly with water.