Diagonale #denktweiter: Attitude is needed!
The Diagonale, the festival of Austrian film, celebrated several Green Events/Green Meetings certifications in 2023 as well as Austria's first green cinema.
Sustainable festival culture means setting impulses and breaking new ground - with ideas, visions and appreciation for ourselves and our environment. In 2011, under the directorship of Barbara Pichler, the Diagonale was one of the first cultural institutions in the country to launch a far-reaching initiative - first with the campaign Diagonale GOES GREEN, beyond green washing and mere labelling. Since Peter Schernhuber and Sebastian Höglinger took over as directors in 2016, the initiative has been operating under the label Diagonale #denktweiter and stands for extended commitment, which also encompasses concerns of social coexistence and diversity.
Today, the festival of Austrian film is a member of the Hall of Fame of Green Events Austria, is considered a best-practice example of sustainable festival culture and connects a considerable number of regional partners in a joint network. With the support of Holding Graz as a long-standing project sponsor, Diagonale #denktweiter also makes initiatives and start-ups visible that exemplify a sustainable and responsible corporate culture.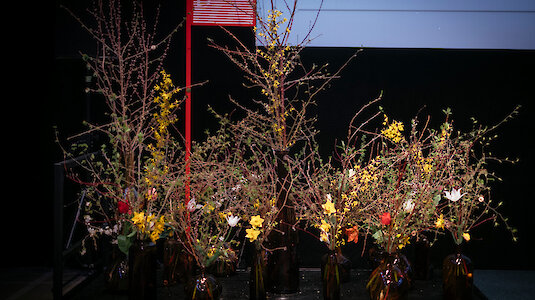 Impression of the Diagonale. Copyright by Clara Wildberger.
After years of certifications of the opening and the Diagonale Film Meeting by ecoversum, the Diagonale has itself been a licensee of the Austrian Ecolabel since 2022 and certifies the programme presentation, the opening, the Film Meeting and the awarding of the Audience Award of the Kleine Zeitung at the Diagonale'23 in the Schubertkino, recently certified as Austria's first Green Cinema, as Green Events and Green Meetings. Other events such as the Franz Grabner Award and the Diagonale Award Ceremony are organised in accordance with the G'SCHEIT FEIERN guidelines.
Good things are so close, they say. We even claim: it is the excellent for which one does not have to travel far!
Diagonale #denktweiter - Awards
2022: Certification of the Diagonale according to the Uz62 guideline of the Austrian Ministry of the Environment for Green Events and Green Meetings.
2018: Nomination and Hall of Fame - Green Events Austria
2017: Award at Green Events Austria
2016: Recognition award in the category cultural sponsoring for cultural providers MAECENAS
2014: Award at Green Events Austria
Since 2011: ecoversum certifications with the Ecolabel.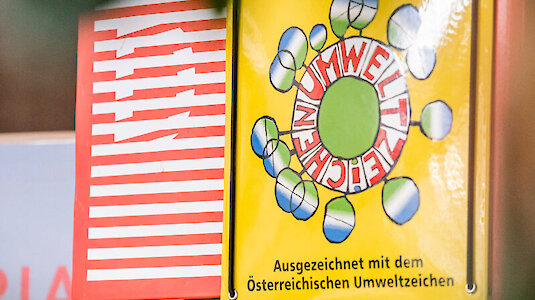 Everyone should know that the Diagonale has been awarded the Austrian Ecolabel. Copyright by Miriam Raneburger.
For more on Diagonale see here. For more information on Diagonale #denktweiter and the extensive network of partners, see here.
Info and contact: Brigitte Bidovec, Diagonale #denktweiter / Sustainability Officer