The green world of the Ecolabel
It is 30 years since the Hundertwasser logo was established as the Austrian Ecolabel. 30 years in which a lot has happened and the Ecolabel has left clear green traces.
Around 4500 award-winning products and services are currently on the market on the basis of more than 60 directives. More than 1100 licensees and about 340 consultants and auditors form a committed Austria-wide and green network. Transparent information and high credibility are appreciated both by consumers and in the B2B sector.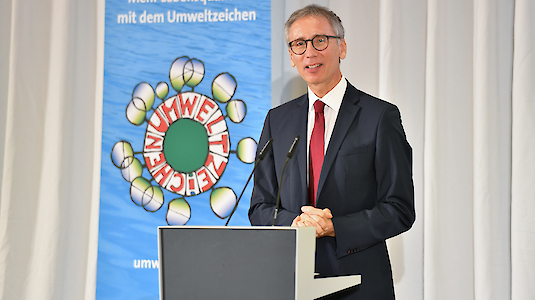 After an overview and an introduction to the Austrian Ecolabel by DI Andreas Tschulik, head of the department in the Federal Ministry of Climate Action responsible for the Austrian Ecolabel, Federal Minister Leonore Gewessler spoke about the importance of the Austrian Ecolabel - especially in the present day.
She thanked all companies currently using the Austrian Ecolabel and spoke of a historic moment in view of challenges such as the climate crisis. "Every purchase is a signal" - and therefore it is immanently important that there are sustainable choices. She stressed that this would not only concern private purchasing, but also public procurement - and referred to the recent decision of the Council of Ministers to supply all federal departments with Ecolabel electricity.
Sustainability as a business model is the business model of the future, she summed up, and appealed to companies to continue offering a wide range of certified sustainable products in the future.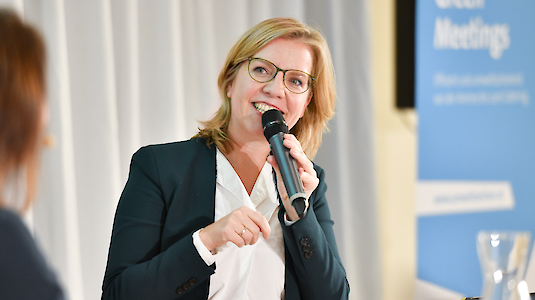 "Creating a climate-friendly future is one of our most important tasks. For 30 years the Austrian Ecolabel has been supporting companies in making their products and services environmentally friendly. We need sustainability in our economic activities in order to actively counteract the climate crisis and at the same time ensure a good future for all of us", emphasises Environment Minister Leonore Gewessler.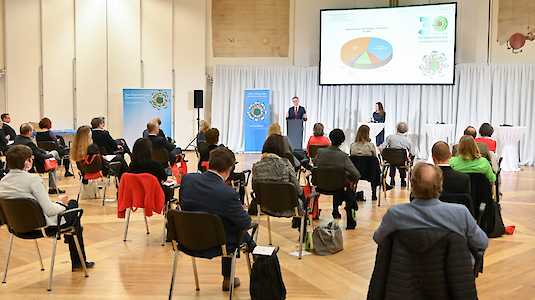 After a series of short presentations on chemicals policy, the expansion of renewable energy, environmental education or green financing, Andrea Fronaschütz, head of the Austrian Gallup Institute, gave an overview of consumer behaviour in times of climate crisis and pandemic. The key findings show that
The Austrian Ecolabel is
Well-known - 59 percent awareness of the label and around 1.3 billion euros turnover with Ecolabel products and services.
Particularly well-known are detergents, tissue paper, household cleaners, dishwashing detergents and office supplies
Effective - More than half of the people interviewed said that the Ecolabel influenced their purchasing decision. 42 percent said they had bought products with the Ecolabel in the last month.
Innovative - the Ecolabel is a pioneer in many areas, for example with the first Ecolabel directive for tourism businesses across the EU,
the first set of criteria in the education sector with the Ecolabel for schools, the first certified financial products and also the first directive for green meetings and green events
International - with the cooperation agreement with the German Ecolabel, the Blue Angel, and the cooperation with the European Ecolabel
Forward-looking - recycling management, Green Deal and Sustainable Development Goals are major international goals, the achievement of which is supported by
the Austrian Ecolabel with concrete measures